Welcome,
This is the main website for the European Jubilee of the Mazda Miata 93 LE.
We are very sorry but in light of the new Corona limitations published by the Dutch government and in effect as of March 23rd we cannot continue with this event.
The Dutch (who are Co-organising) are not allowed to leave home or attend meetings with more than two persons until at least the first of June. Therefore we have no other options than to postpone our event until next year.
As soon as we have more information it will be published here.
We are very sorry but this is the way it is.
Stay safe. Take good care of your loved ones and your LE's  and we will meet next year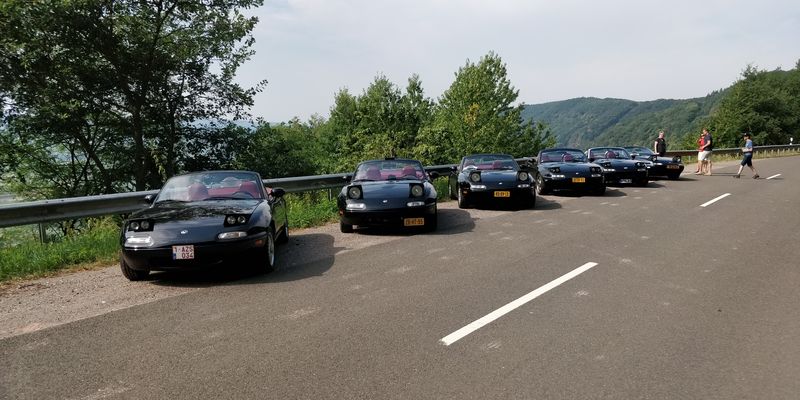 For the third time now we are organising a meeting of the 93-LE's that are in Europe.
After two succesful events in Manderscheid (2018, 25th anniversary) and Bad Bentheim (2019) this years meeting will be in Friedeburg (Ostfriesland, Germany).
We have found a nice Land-hotel that has been in the owners family for six generations.

The date has been set to be May 8 - 9 - 10, Friday to Sunday.
We will be at the Hotel friday from about two 'o clock to welcome you.
Cost for Three days, Two nights will be €139,- per person and a double room will be €192,- per person (breakfast included).
The suggested program for now is as follows:
- Friday afternoon, arrival and getting to know eachother, dinner afterwards
- Saturday, one of our teammembers has made a route, we stop along the way for lunch
- Sunday, we'll sleep in. Maybe a photoshoot with all cars and owners. We'll say goodbye around 14:00hrs
If you would like to join us please book your rooms at the hotel and mention you are with the Mazda-event from the Martens Family.
and send us an e-mail so we know you are coming: Dit e-mailadres wordt beveiligd tegen spambots. JavaScript dient ingeschakeld te zijn om het te bekijken.


Hotel:
Landhotel und Gasthof Oltmanns
& Schumachers Landhaus
Udo Schumacher e.K.
Friedeburger Hauptstrasse 79
26446 Friedeburg
Telefon: 04465 / 97815-0
Telefax: 04465 / 8366
Dit e-mailadres wordt beveiligd tegen spambots. JavaScript dient ingeschakeld te zijn om het te bekijken.
www.landhotel-oltmanns.de
the date: 8 to 10 May 2020
we are looking forward to seeing you there!
(PS: this event is open to Mazda Miata 93LE or Eunos S-limited only, sorry)